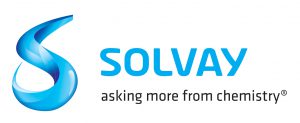 Solvay Specialty Polymers
Description of the Organization/Institution
Solvay, created in 1863, is a multi-specialty chemical company, committed to developing chemistry that addresses key societal challenges. Solvay innovates and partners with customers in diverse global end markets. Its products and solutions are used in planes, cars, smart and medical devices, batteries, in mineral and oil extraction, among many other applications promoting sustainability.

Solvay is headquartered in Brussels with approximately 30.000 employees spread across 53 countries. It generated 10,9 billion Euro net sales in 2016, with 90% made from activities where it ranks among the world's top 3 players.

---
Core Expertise
Solvay as expert for materials and in particular Solvay Specialty Polymers brings the expertise in high performance polymers. Solvay high performance plastics, polymers, fluids and elastomers are designed

to meet the critical requirements that engineers face every day in key industries including Automotive, Aeronautics, Smart Devices, Healthcare and Energy Production and Storage.

---
Portfolio
Solvay Specialty Polymers offers an unmatched portfolio of specialty polymers with over 35 product lines available in more than 1500
formulations designed for use in demanding markets around the world.
---
Areas of Application
Solvay will bring materials solutions that enable interior linings to be redesigned:
Showing adapted lightweight profile for easy automatic handling;
Bringing adapted construction such as sandwich structure or the like to meet the strength and durability criterias;
Meeting aircraft fire safety requirements.
---
Contact
Solvay Specialty Polymers
Hein-Saß-Weg 22
21129 Hamburg | Germany
Paolo Toniolo
Phone: +39 340 5432735
E-mail: paolo.toniolo@solvay.com
Link to website
---
Project Description:
CALITO